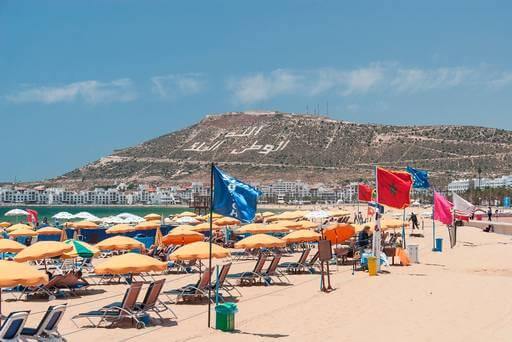 Day 1: Agadir – Fort Bou Jerif :
Departure due South by following the coast where the fishermen live in troglodyte shelters dug of cliffs. We will cross the nature reserve of Souss Massa which we will pass round. After having crossed the village of Massa and Tassilla we will go up towards the sea to join Mirleft, then Sidi Ifni where we will hug the spit of the Atlas. Arrival at Fort Bou Jerif at the end of the afternoon. Dinner and night there.
Day 2 : Fort Bou-Jerif – Tafraoute:
In the morning, we leave the fort direction to Guelmim, door of the Moroccan western Sahara desert, to continue towards Amtoudi and its spring, sublime place, you will take new tracks through the foothills of Anti-Atlas where the oases and the small Berber villages are surrounded with a landscape of desert mountains. You will reach the plenitude by arriving in the evening at Tafraoute, village situated in 1200 m of height, in the middle of a cirque of enormous blocks of pink granite which are fired in the setting sun in magnificent nuances of pink, ochre and purple. Visit of the village. Dinner and night in the hotel Almond trees 4.
Day 3 : Tafraoute – Tata:
Early after your breakfast, direction to the desert. You will follow the Ait Mensour Valley with its million palm trees, little by little the landscape becomes dry and the green disappears. After a typical lunch, you begin the descent towards Tata. Dinner and night in berber village.
Day 4 : Tata – M' Hamid:
Early departure for a long stage on a road through the desert where the landscape leaves open-mouthed the most warned, interrupted with oasis to quench thirst. Arrival in M'hamid, door of the desert, there where the road and the civilization, leave place with the nature. This night, you will be served by the blue men of the desert, you will dance in the sound of the Tam-tam and you will sleep under tent or under the stars.
Day 5 : M' Hamid – Taliouin :
A quiet waking for a breakfast in the desert. You follow the valley of Drâa and its million of palm trees, cross the city of Zagora with its famous panel " Tombouctou 52 days " by way of Tazenakht, famous city for its preparations of Berber carpets. Arrival at Taliouine. Dinner and night in inn.
Day 6 : Taliouin – Agadir :
Last day on tracks rather rolling through vast desert to arrive in Taroudant. Taroudant is always referred to as "The little Marrakech" because it was the built by the Saadian dynasty who used it as their capital of region of souss before the surrounded with its bulwarks with crenellations and its gardens of olive trees and palm trees. Lunch, then continuation towards Agadir. Return to your hotel for a well deserved rest or transfer to airport.End of Our Services